Mac Games > Action Games
> Alice's Tea Cup Madness
Alice's Tea Cup Madness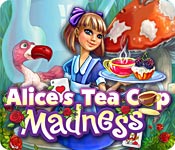 Alice has fallen down the rabbit hole! After landing in a nonsensical yet familiar world of wonder, she must earn her ticket home by prepping and serving tea to whimsical characters in various tea shops across the land. To succeed she must please impatient patrons like The Hatter and keep the crazy Cheshire Cat from disrupting her customers and stealing their orders. Will Alice keep her customers happy and earn enough tips to get home?
Features
Based on Lewis Carroll's Beloved Classic!
8 Fun-Loving Characters To Serve!
Over 35 Food-Related Upgrades!
More Than 30 Tea House Upgrades!
Free download Alice's Tea Cup Madness
35 Mb
Screenshots



System Requirements:
OS: Mac OS X 10.4+