Mac Games > Puzzle Games
> G.H.O.S.T. Hunters: The Haunting of Majesty Manor
G.H.O.S.T. Hunters: The Haunting of Majesty Manor
Watch Video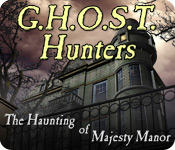 You are an investigator for G.H.O.S.T. Hunters and have been called to Majesty Manor to investigate a possible haunting or to uncover a cruel hoax. Search for clues, using the fantastic hint feature if needed, and generate a list of suspects as you progress through 19 unique environments. You can then eliminate suspects as you rush between the dark, shadowy attic and the haunted rooms in a final heart-pounding race against time! Can you solve this haunted mystery?
Features
Solve A Haunted Mystery!
19 Unique Environments!
Fantastic Hint Feature!
Find Additional Bonus Items!
Free trial version is not available for G.H.O.S.T. Hunters: The Haunting of Majesty Manor game for Mac.
Screenshots



System Requirements:
OS: Mac OS X 10.4+
*
This game is available for PC