Mac Games > Puzzle Games
> Sudoku: Latin Squares
Sudoku: Latin Squares
Watch Video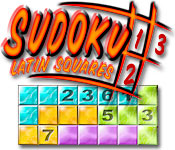 A new twist on the classic game of Sudoku opens up a whole new world of play as you pit your wits against cleverly designed and totally unique levels! In addition to the typical 9 x 9 puzzle made up of nine 3 x 3 mini-puzzles, Sudoku: Latin Squares mixes things up with mini-puzzles of all sorts of different shapes. With boxes of the puzzles bending in every direction, you'll face the greatest Sudoku challenge ever!
Features
Print Puzzles for Traveling!
Hints, Notes, Undos and Saves!
Two great games in one!
Patent pending algorithm!
Free download Sudoku: Latin Squares
12.3 Mb
Screenshots



System Requirements:
OS: Mac OS X 10.4, Mac OS X 10.5
*
This game is available for PC